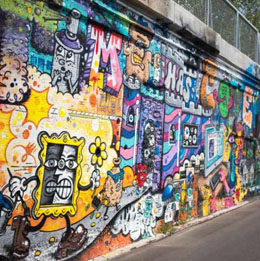 [Author of this article, Carolyn Johnson, is a former Manager Library and Cultural Services with Logan City Council Queensland, whose portfolio included Graffiti Management and Mural Art. With twenty years' experience in this complex field Carolyn is now a consultant with Reinforcements Management Consulting]
Graffiti – is it art or a blight in an urban setting? How can communities respect the creative essence but control the destructive element of public mural painting? Is there a place for Graffiti in our cities and suburbs? The art of graffiti management is a skill to be learned.
What is Graffiti?
Graffiti has existed since ancient times in many types and styles from carving and engraving to the modern form of aerosol spray writing and painting and more recently, marker pens, fire extinguishers and glass engraving. Generally, graffiti is undertaken on a property without the owner's consent thus making it vandalism and therefore unlawful. Community expectations dictate that obscene graffiti be removed immediately.
Where "gangs" exist, graffiti may be used to stake out an area, rather like dogs mark their territory.
The connection between graffiti and train and rail corridors is legendary. The death of a tagger may result in R.I.P messages being tagged across many areas where known associates use tagging to pay their respects.
Approaches to the art of  graffiti management
The Graffiti world is a complex one which needs research and understanding to arrive at the best local solutions. How effectively graffiti removal is managed area to area is patently obvious when crossing local government boundaries. Generally, elected representatives in response to community expectations take a very hard line against tagging. The impact of tagging on assets owned by others (eg Roads Authorities, Rail Service Operators, Energy Companies. Telecom and Postal services) can also reflect poorly on the local community.
The use of mural artists to deliver conventional artwork as a deterrent to tagging can prove very worthwhile. It is rare that such artworks are vandalised.
Adding yet another dimension to the graffiti debate, Gallery exhibitions featuring graffiti artists tend to attract a massive audience. This has led to some municipalities seeing high quality graffiti art in approved locations as a tourism feature.
Some "don'ts" in graffiti management
There are some things to avoid in managing graffiti:
Don't come out all guns blazing in the media about graffiti or what you plan to do about it. (This method is sure to multiply tagging tenfold).
Don't allow developers to install boundary fences (such inviting canvasses) without including graffiti prevention provisions.
Don't pay lip service to graffiti removal. A bad paint-over can look worse than the original tag.
Don't take on volunteers unless resources are available to supervise and guide/appreciate their outputs.
Don't issue free paint and brushes.
Don't permit "legal walls" unless community engagement in the local area defines the parameters of their use.
Don't under-resource graffiti management.
Don't underestimate Work Health & Safety requirements around paint, chemicals and heights.
Don't fall for slick inventions of graffiti removal chemicals and devices.
Some "do's" in graffiti management
For effective results there are some positive things to do:
Remove graffiti as soon as possible (obscene graffiti immediately).
Match the paint and cover an area top to bottom and side to side i.e not just going over the tag.
Ensure the chemical removal does not leave a shadow.
Implement a community/staff tagging report system – preferably including a photo and accurate location.
Do publicise how and where to report graffiti but in a low key manner.
Use modern techniques to prevent graffiti or facilitate its removal when installing facilities such as skatebowls.
Use Primary Colours on high tag locations where appropriate and colour matching so fences "fade" away"
Provide free graffiti removal to residents and businesses (conditions to apply).
Use mass plantings of shrubs and small trees against targeted areas.
Use murals as preventative measures in known tagging areas.
Liaise with government agencies Police Service, Crime Stoppers, Neighbourhood Watch and Youth Justice
In Queensland, Graffiti removal legislation was introduced as part of the Criminal Law and Other Legislation Amendment Act 2013 (PDF)
If you need help or advice in any areas of Graffiti management call in Reinforcements!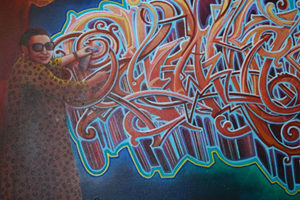 Can you spot the first letters of "Carolyn" in the writing above… And Carolyn?
"This amazing artwork was a farewell gift from a talented artist. It is a treasure and a testament to my many years spent keeping a city clean of nuisance tagging while at the same time recognizing the skills of those who can produce artworks works like this." – Carolyn Johnson
article by Carolyn Johnson