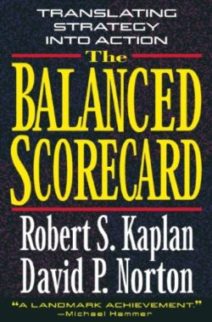 Why is linking strategy to operational performance such a mystery to so many managers? The balanced scorecard approach was developed nearly twenty years ago but still results in some head-scratching in managerial ranks.
When Kaplan and Norton develop their updated version of the balanced scorecard concept for organisations in 1996 it presented a new way for managers to understand performance reporting. It also opened the door to a new way of conceptual reporting focused around translating strategy into operational execution and results measurement. The balanced scorecard approach has become sufficiently accepted today that many organisations use the model without recognising its genus.
The integrated planning model embraced by many public sector organisations is fundamentally built on the 2nd-generation balanced scorecard approach whereby strategic direction is translated into operational activities whose performance in implementation can be measured and tracked across indicators that are both relevant and meaningful to the organisation and its people.
Simplicity with science.
The term balanced scorecard encapsulates some very simple principles about effective performance review:
Scorecard reflects a simple communication tool that presents performance results in a summarised form as a kind of snapshot of key organisational outcomes.
Balanced implies the use of a range of multi-dimensional measures and indicators that provide a well rounded perspective of performance against key targets.
Traditionally the segments used to provide a balanced view through the scorecard had been based on a commercial model. Orienting these segments to a public sector context can provide a slightly different but more relevant matrix.
COMMERCIAL SCORECARD
PUBLIC SECTOR SCORECARD

Financial Indicators

Customers

Internal Business Processes

Learning and Growth

Financial Indicators

Stakeholders/ Community

Governance and Process Efficiency

Innovation and Organisational Culture
Devising indicators and targets to be reported against in each of these segments requires some management insight and a good appreciation of the focus of the business as well as the ability to identify the key drivers of success in implementing the required strategies. A simple example might be seen as follows:
(Image: Courtesy maaw.com)
Integrating strategy and operations.
A further development of the balanced scorecard approach has been to clearly link its use to strategic direction so that operational activities are not measured for their own sake but for their contribution to the implementation of desired strategic direction. To this end a range of practices has grown up to develop strategy maps that create a visual and easily assimilated representation of an organisation's strategies and more importantly the interlinking of those strategies. This helps focus the balanced scorecard and its key performance indicators and measures on the things that are critical to the delivery of strategic outcomes.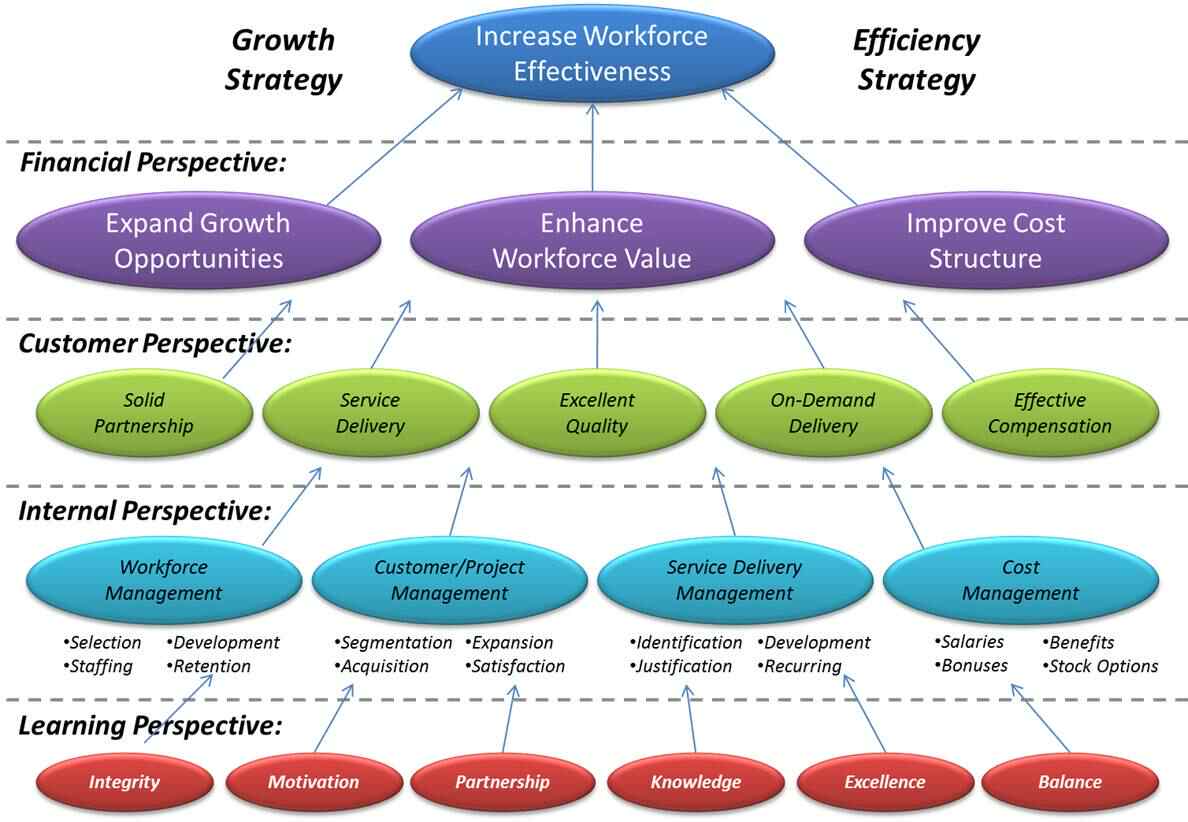 Greater effectiveness in this respect is of course achieved if the data and information required to populate the balanced scorecard are able to be captured and interpreted in the normal course of business rather than having to create a separate management reporting process. In most public sector organisations this is achieved by creating a clear line of sight from the organisation's strategic plan through its operational or delivery plan to its financial and resourcing plans encapsulated in its annual budget. Having these management instruments aligned to organisational structure and the roles and responsibilities of teams and individuals then permits allocation of accountability, to nicely close the loop between planning and performance management.
The whole point of "balancing" the scorecard is to ensure managers measure, monitor and act upon performance reports in a way that confirms the organisation is actually making progress in the right direction and along all relevant fronts.
"People and their managers are working so hard to be sure things are done right, that they hardly have time to decide if they are doing the right things." – Stephen Covey.
A succinct dashboard founded on a balanced scorecard provides a useful decision support tool for managers strategy maps in that respect.