In last week's blog I tempted fate by referring to the likelihood of needing to regenerate the "Mud Army" from the 2011 floods in Brisbane. Unfortunately that turned out to be a prophecy and indeed this year's disruption to businesses and residential properties was in some places as bad as or even greater than the 2011 benchmark.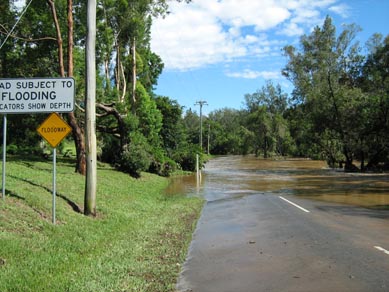 Thankfully not suffering the terrible loss witnessed in other places, in my own area we were surrounded by floodwaters and without electricity for some 50 hours. This resulted for many in the loss of large quantities of food supplies, which they had stockpiled in anticipation of being cut off by the floods, only to find no power supply for refrigeration and the food quickly spoiling. Here is an example of one part of the emergency plan working well, only to be confounded by other unforeseen events.
At the end of my previous blog I suggested it was time to turn our thoughts to business continuity planning. This still seems a good idea but I may confine this discussion to some of my observations during this past week where, notwithstanding having compiled a sophisticated emergency response plan, some businesses were still confounded by the smallest of oversights or contingencies they never thought would happen.
Having a Business Continuity Plan to begin with.
Any plan is better than no plan at all, so the first rule is to at least start thinking and planning for the worst. The Queensland Government, through its Business Queensland website, offers good suggestions and even a template for small businesses to prepare their own business continuity plan. The template allows businesses to conduct their own risk assessment and establish a planning framework for dealing with major disruptions of an unforeseen nature. Business Continuity Plan template.
Even this template however relies on the business owner being astute enough to identify or predict events and circumstances of all kinds and of all magnitudes. The following discussion comprises a number of situations I observed which might test even the most robust business continuity plan.
What happens when wider communications network goes down?
I happened to be in Rockhampton last week at the height of the stormy weather, when the entire Telstra telephony network was disabled without warning. In such circumstances it matters not if your business has standby generator power or wireless or cable broadband connection, because the fundamental distribution vehicle is not available. Fortunately, I was carrying both a Telstra and an Optus wireless device and was able to operate on the alternative network. The Telstra outage lasted a couple of days and businesses without an alternative had to run blind or close up.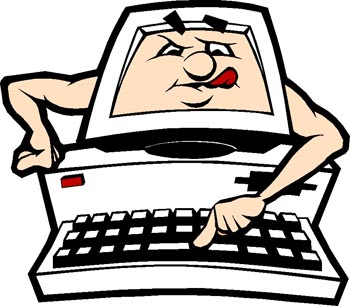 Equally for retail businesses, when the telecommunications network is down even though the shop or office might be open for business, the lack of EFTPOS or electronic credit card facilities can bring the business to a halt. At the same time EFTPOS and credit card facilities are down, it is likely that the Banks' autotellers are also out of service, as happened in Rockhampton. Consequentially cash does not become an option and the whole commercial cycle slows down considerably.
I saw one enterprising proprietor not giving up so easily as he reverted to old technology of a manual credit card imprinting machine which had lain dormant under his counter for years. He remarked, "I knew if I kept it long enough it would come in handy."
What happens if the people can't get to you or you to them?
Even if the business can open and has power supply, if the creeks are up and the roads are cut customers cannot get to the business.  Certainly the issue of the business's own employees being able to either access the place of business or being able to work remotely should be part of the emergency planning. I know of one business that has just such a plan which was born out of a fear some years ago of a global pandemic which would have forced a strategy of confining people to their homes.
Even if the customers can get to the business, if it is cut off from its suppliers of inventory the business's capacity to service its customers quickly dissipates. I witnessed a very frustrated Hardware Shop Manager asking a long line of customers wanting batteries to please be patient as the delivery truck was delayed by the local flooding.The likely impact of extreme events on supply chain reliability should be a very important part of the business's planning.
Assuming that the other businesses upon which you depend are also operating may be a risk in itself, or assuming you will still be able to access services upon which you depend in times of emergency might also be problematic if they too become inoperable . Always factor in to your plans that those alternative sources you identify made themselves become unviable.
For those of us whose business depends on travel the sudden closure of an airport and disruption to all other sources of transport (road and rail) at the same time can really test our BCP, as I found last week.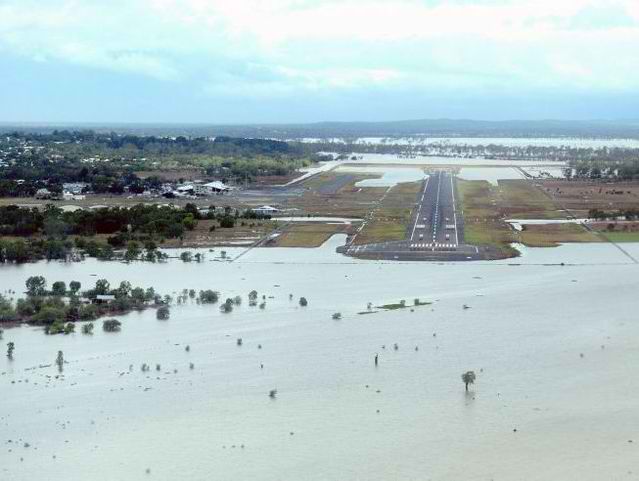 (Rockhampton Airport closed by floodwaters. When intermittent flights resumed pilots had the tricky job of getting off the ground with the runway length reduced by more than a third. Image by Sheryn O'Neill, The Morning Bulletin, Rockhampton)
What do you do without both light and power?
Once the electrical power is severed, some businesses can often still operate at least for some time using battery powered equipment such as portable lanterns, laptop computers and smart phones. However if they were not disciplined enough to ensure that those devices were recharged regularly before the power is severed or do not have some alternative means of recharging them, that option also quickly fades. I was lucky enough to have family in other parts of the city who still had power and I was able to visit and recharge my devices from time to time. I also noticed unusually heavy trade in some Coffee Shops still operating where patrons with their mobile phones and laptops crowded around highly sought after tables near the shop's powerpoints.
Businesses should also take notice of those important  "be prepared" messages that are directed towards individuals and families, such
as having a battery-operated radio available to keep up with announcements and emergency notices. Of course, again this will fail unless there is a supply of well charge batteries on hand. It is often the case that once the emergency is to hand, usually convenient stocks of such items are quickly picked over – as I observed from yawning shelves in supermarkets, service stations, and convenience stores in my area. Have you noticed how scarce "D" Size Batteries have become these days?
Making sure your BCP includes the little things
So when we explore those "what if" scenarios that are part of the compilation of our Business Continuity Plan we should make sure to  include a whole range of very simple but critical risks in order that we may decide whether there are viable alternatives, preventions or workarounds. Alternatively, part of the Business Continuity Plan may be too identify a period of time during which circumstances are so extreme that is just better to close down, secure the business premises and be prepared to reactivate as quickly as possible once the emergency has passed.
Above all, the prime consideration should be for the safety of employees and customers; followed by the security of the core assets of the business; followed by the reputation of the business as a good corporate citizen. Closing the doors and turning out with the "Mud Army" might be the best business move one can make in such times.