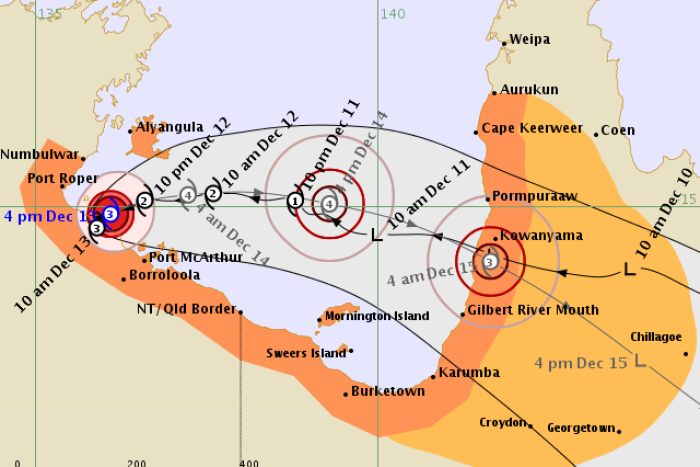 Each year about this time we remind local governments of their obligations under legislation to review the effectiveness of their Disaster Management Plans at least once a year.  We are now in the summer season.  Many Queensland communities are already experiencing the unpredictability of the forces of nature- record heatwaves; extreme bush fires and the first cyclone already come and gone. Although thankfully cyclone Owen did not live up to the dire predictions of some weather watchers it brought record rainfall to some areas of north Queensland and widespread flood damage to infrastructure. Owen is unlikely to be the last we see this season.
The Outlook for Wild Weather
The Bureau of Meteorology has published a map showing very high ocean temperatures off the Queensland coast which are a source of cyclone development. The Bureau's Tropical Cyclone Seasonal Outlook for northern Australia predicts a "46% chance of more than the average number of tropical cyclones" for the 2018/19 season. That means we should plan for at least another two or three cyclones and perhaps a similar number of tropical lows, which do not make the cyclone category but still can have devastating effects. Damaging winds and flash flooding are the usual triggers for the Disaster Management Plan to be activated. As a result the Council's preparedness to respond immediately is critical, even – or especially – during the holiday period when many of the usual staff involved in disaster management are on holiday.
In our climate, if it is not cyclones it is quite likely to be bushfires. Recent experience in North Queensland proves that one can be followed very quickly by the other. Just ask the residents of the regions between Mackay and Townsville about their experiences over the past month or so.
How well is your Council prepared for the Disaster season?
A quick survey of Council websites reveals that of fifteen local governments located in the cyclone belt ONLY 4 have published Disaster Management Plans showing they have been reviewed in the past twelve months. That doesn't mean they are deficient, but it does mean they probably haven't be formally re-assessed for a while.
Once again here is our short checklist for Disaster Management Plan review – 
Does your local government disaster management plan comply in all respects with the relevant legislation? Has it been tested for effectiveness? – legal responsibilities cannot be overlooked or ignored;
Do you have an effective communications plan to prepare your community? Does it include alerts; coordinating resources for response and recovery; engaging with other levels of government and of course the Media: provision of evacuation centres and what happens in the case of the loss of power, water and sewerage?
Are all councillors and senior management clear about their respective roles in the event of a disaster/emergency?
Have the disaster management plan and sub-plans been thoroughly tested through drills, simulations or role-play exercises to probe for weaknesses that might appear under actual conditions?
Need a thorough review of your Disaster Management Plan? Reinforcements can help. Call us.