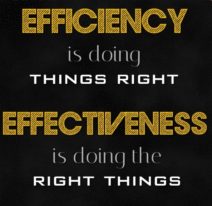 The relationship between efficiency and effectiveness has always been a rich source of discussion and debate. In fact most times the discussion just leads to further lack of clarity. One common helpful distinction is:
Effectiveness – doing the right thing
Efficiency – doing the thing right
Insights into management come from a variety of sources many of them quite unexpected and often in surprising circumstances. In the midst of a workshop with a range of middle managers seeking to define performance indicators for their use in measuring organisational progress toward objectives, I came across some interesting points of view about what the managers thought they were supposed to be measuring.
In some cases their focus was purely on the process efficiency of their activity rather than the effectiveness of the outcomes that should be the focus of their activity. This approach is often found in areas providing corporate services support were sometimes it is difficult to see the linkage between the day-to-day transactions and the actual outcome for the end customer. Nevertheless it is important that all units of the organisation do have a line of sight to the eventual outcome otherwise the concentration on what actually creates effectiveness out of their efficiency is lost.
"Why are you here, boys?"
The purpose of strategic corporate planning is not just to articulate high-level goals and direction but to ensure that all parts of the organisation which contribute to the attainment of those goals understand what those goals are and how the functions and transactions they execute contribute to the overall outcome.
Often the further down the organisational tree one is, the more difficult it is to establish that line of sight to the ultimate goal. Nevertheless managers at all levels need to continually reinforce to their teams the value of their contribution and the necessity to see it not as an isolated part but an indispensable ingredient in the total picture. Indeed by narrowing the focus to just what we do today we tend to eliminate opportunities to improve what we do to make an even greater contribution to the whole. Being appreciated for even a small part in a large project acts as a significant motivation.
I saw a wonderful example of this portrayed in one of those late-night movies made in the 1930's where a trio of young stokers were being introduced to the ships boilers by the kindly chief engineer.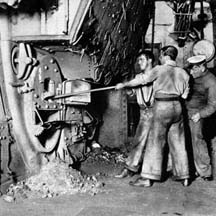 "Why are you 'ere boys?" the chief engineer asked.
"To shovel coal, sir" said one of the likely lads, pleased with the sharpness of his own response.
" No son." said the chief "You are 'ere to take this 'ere vessel to India."
The lads' eyes widened and their faces lit up with broad grins as they set to on their shovels with great enthusiasm.
Although something of a corny exaggeration the principle it demonstrated is sound, in that feeling part of the enterprise no matter how modest your function, provides significant impetus to increased productivity and effectiveness.
(Image: Courtesy Sydney Historic Fleet Museum)
How do we measure concepts of efficiency and effectiveness?
In order to measure efficiency and effectiveness it is important to understand their definitions. The dictionary tells me that a definition is "A statement of the exact meaning of a word". However when I went looking for definitions of efficiency and effectiveness, exactness was not what I found. In fact for those readers who would really like to delve into the labyrinth of defining efficiency and effectiveness I would refer you to a staff research note entitled "On Efficiency and Effectiveness: Some definitions" produced in May 2013 by the Australian Government Productivity Commission.
Nevertheless in practical terms there are ways of measuring these concepts such as:
Efficiency:
productivity measures – ratios that represent units of output per unit of input.
speed and timing measures – transaction turnaround times and response times to enquiries or requests for service.
consumption measures – the amount of resources used in producing a given level of service.
delay and backlog measures – the extent of unfinished work or unprocessed stock.
Effectiveness:
outcome measures -whether defined objectives are achieved or met.
quantum measures – whether a target volume was wholly achieved.
quality measures – whether the required standard was achieved.
compliance measures – whether all necessary processes were complied with in attaining the outcome.
 

And
what about the mission?
 Losing site of the mission in the minutia of administrative detail is a constant risk for any organisation but is especially problematic for larger organisations and particularly so for those dispersed over wide geographic areas, as communication and direct control becomes more difficult or complex. In 2011 the BBC in the UK ran a story on an Audit report that found the Ministry of Defence lost track of assets worth £6.3bn. 
The item received a lot of reaction and "tut-tutting" about gross inefficiency, but one commentator suggested putting the fuss in context just as the Duke of Wellington had 200 years earlier, when he wrote the following dispatch from central Spain to the British Foreign Office in 1812:
Gentlemen,
Whilst marching from Portugal to a position which commands the approach to Madrid and the French forces, my officers have been diligently complying with your requests which have been sent by His Majesty's ship from London to Lisbon and thence by dispatch to our headquarters.
We have enumerated our saddles, bridles, tents and tent poles, and all manner of sundry items for which His Majesty's Government holds me accountable. I have dispatched reports on the character, wit and spleen of every officer. Each item and every farthing has been accounted for with two regrettable exceptions for which I beg your indulgence.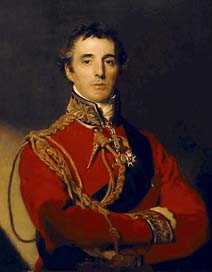 Unfortunately the sum of one shilling and ninepence remains unaccounted for in one infantry battalion's petty cash and there has been a hideous confusion as to the number of jars of raspberry jam issued to one cavalry regiment during a sandstorm in western Spain. This reprehensible carelessness may be related to the pressure of circumstance, since we are at war with France, a fact which may come as a bit of a surprise to you gentlemen in Whitehall.
This brings me to my present purpose, which is to request elucidation of my instructions from His Majesty's Government so that I may better understand why I am dragging an army over these barren plains. I construe that perforce it must be one of two alternative duties, as given below. I shall pursue either with the best of my ability, but I cannot do both:
1.) To train an army of uniformed British clerks in Spain for the benefit of the accountants and copy-boys in London or, perchance…
2.) To see to it the forces of Napoleon are driven out of Spain.
Your most obedient servant,
Wellington

(Image: Courtesy Wikimedia Commons)