The recently televised political debates between the Australian Prime Minister and Opposition Leader as part of the Federal election campaign were not judged by commentators to be particularly inspiring. Nor were there complements paid to the facilitation of these events or the Facilitator's ability in keeping the discussion well directed and interesting.
(Image courtesy the Age.com)
The dictionary definition of "Facilitate" is "to make something easier or less difficult". It is a well-established practice now for organisations to employ professional Facilitators to help coordinate meetings, conferences, workshops, planning meetings. To achieve their objectives for these forums organisations look to Facilitators to help the participants to share, contribute, objectively debate and develop consensus views and conclusions on issues important to the organisation.
Why use a Facilitator?
The need to have outside or external facilitation can arise because of various circumstances, such as:
The participants all have vested interests in the outcome and an independent Chair is needed to ensure all views have equal opportunity to be heard;
The participants are generally specialists in the technical aspects of the issues but not necessarily skilled in the dynamics of group problem-solving or reflective discourse;
The participants may be mismatched in terms of ability or personality to assert their views and some managed structure is required in the dialogue to achieve balanced contributions;
Participants may already have strong views that will benefit from being challenged in a searching and respectful way;
Participants may be from competing or opposing groups who require independent moderation of their discussions.
Facilitation skills
A successful Facilitator usually possesses skills that enable them to: 
Maintain order in group discussion;
Draw out creativity in others;
Challange unsubstantiated claims;
Identify key issues and focus the discussion on their resolution;
Focus the discussion by clarifying assumptions about the topic;
Regularly summarise progress in the discussion and validate with participants the current status of agreement;
Secure the free and uncritical sharing of information and views but enabling respectful challenging of those ideas so that assumptions might be tested;
Provide a structure or process for discussion and debate that enables logical progress and assimilation of ideas;
Help contributors clarify their ideas by restating them in alternative forms or helping to construct clearer statements;
Help participants to articulate their conceptual ideas;
Control any argumentative atmosphere and prevent undue dominance by any particular section of the participant group;
Be able to encapsulate the various threads of discussion into a concise statement that all or most participants can relate to and accept as an expression of their agreed position;
Maintain objectivity and remain outside the passions and prejudices of competing arguments;
Ensure that all participants can express themselves and encouraging the quiet ones to speak up;
Exercise diplomacy in moderating strong views within the participating group.
What to look for in a Facilitator
Choosing an appropriate Facilitator means avoiding a few important pitfalls:
Never engage a Facilitator "sight unseen" or without complete assurance of their skill. Many an important workshop or forum has missed its mark by poor choice of Facilitator.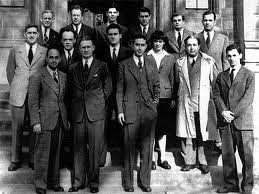 The facilitator should not only possess the skills referred to above but have some experience in facilitating the type of group to which they are being appointed. For example, facilitating a group discussion on highly technical scientific issues should not be assigned to someone who cannot easily relate to or comprehend technical argument or scientific concepts. Imagine trying to facilitate a workshop of the group that developed the first self-sustaining nuclear chain reaction.
(The group of scientists from Chicago University led by Enrico Fermi who started the nuclear chain in 1942. Image: Courtesy Atomicarchive.com)
Although the Facilitator need not be a specialist in the topic they are to facilitate, they should have a feeling for the context within which the discussions take place and a general understanding of the broad issues involved. Being totally ignorant of the topic does not help in summarising or encapsulating arguments and ideas promoted by the participants.
 The facilitator should have a personality that strikes early rapport with the participant group.
The facilitator should also be able to provide an appropriate balance of serious and light-hearted content and process to keep the participants engaged and thinking positively about the forum.
The Facilitator should be able to accommodate any special cultural issues attributable to the participating group.
Above all, choosing a Facilitator is entrusting the outcome of your forum to someone you feel will have a greater chance than you do of managing the discussion and debate toward a successful conclusion. However Facilitators are not Miracle Workers and even the best sometimes cannot draw out the desired value from a group whose members are poorly chosen to participate. This may be because some are not across the issues, inappropriately experienced to contribute effectively, without adequate authority to decide or agree to particular propositions or just dis-engaged because they were not keen to attend in the first place.
Like a sculptor, the Facilitator needs to be able to start with good material in order to produce a masterpiece.