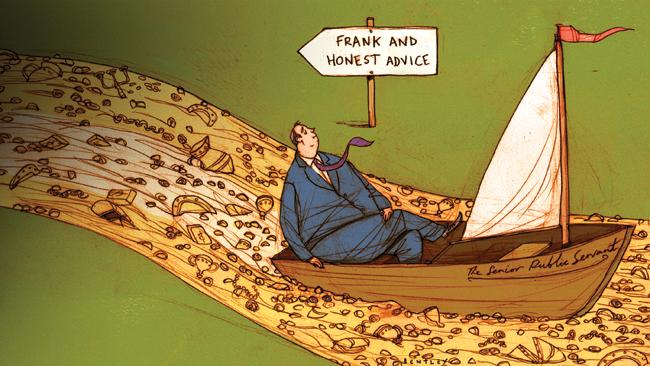 Yet again debate has risen over the state of relationships between elected officials and organisational management in the public sector, and the resultant fallout from rising tensions. This time the Queensland Auditor General has highlighted concerns at the increasing tendency of professional advice from local government officers to be compromised by fear of termination of employment.
For more than a century the strength of the Westminster system of government on which the Australian Federation was founded has been the dynamic between elected and appointed officials whereby objective and impartial quality technical advice is guaranteed to elected members in return for permanent employment tenure of appointed officials.
This encouraged public sector managers to build strong professional organisations with technical skills capable of analysing complex policy scenarios and offering competent and well considered solutions regardless of whether those solutions advanced a particular party political agenda or not.
In this way elected legislatures at all levels of government could be sure of access to objective options for good workable solutions to infrastructure and service questions. The decisions then rested squarely on the integrity of the decision-makers to adopt the most beneficial alternative. In recent times however the erosion of the permanency of employment tenure is seen by many to have caused appointed officials to avoid the frank and fearless approach to policy and decision advice in favour of offering up "what pleases the master". This, coupled with the increasing practice of interposing politically chosen policy advisors between the elected executive and professional public sector managers, has produced a basis for advice that is less experienced, less technicallycompetent and less thorough in its analytical diligence.
 Turnover of executive staff in Queensland local government
All this is not new. What is new is the extension of political expediency to the sphere of local government where the influence of intimidation by threat to employment cannot help but imply that frank and fearless advice is no longer valued and is in fact discouraged.
Local Government Managers Australia and the Local Government Association of Queensland have been concerned for some time about the attrition rate of experienced CEOs and senior staff in Queensland local government, especially in the light of significant turnover closely following elections. The reasons for recent high turnover may be many and varied but a clear trend is emerging of separations being made without any substantiation being given related to poor performance.
The Queensland Audit Office is now also beginning to see reasons for concern in the way in which the integrity of decisions is being affected by the reticence of senior staff to offer up advice that, whilst accurate and truthful, may be politically unpalatable.
The public sector generally is tending toward a significant crisis of public confidence where electedofficials are seen as removing senior staff who dare offer independent objective advice, only to replace them with politically tame advisors. Furthermore, when the tame advice delivers a predictably poor result the tendency to use the advisor as a scapegoat creates even more back covering behaviour. This continues the downward spiral to even greater depths of neglectful policy analysis.
Reform at both Commonwealth and State levels aimed at redressing this trend has been stifled in recent years by the ultra-sensitivity of politicians to the new age social media environment in which they operate. Local government may be late in coming to this new communication form but the same sensitivities are becoming evident in that sector's body politic. Nevertheless it is critically important that truthful and honest objective advice be restored to the system of government inAustralia at all levels.
There are three pathways to achieving this:
1.Re-establishing confidence in the value of a permanent employment guarantee in return for frankand fearless advice based on professional technical competence, which should be the principal basis of performance management;
2. Reinforcing the emphasis on professional competence and conduct through objectively managed performance measurement systems; and
3. Re-establishing the incentive for senior public sector managers to develop highly competentprofessional organisations directed toward effective policy development founded on evidence-based research and analysis.
What others say about Frank & Fearless advice.
The ongoing trend toward the politicisation of the public service has been the subject of numerous commentaries over the past few years, with very notable professionals andacademics offering wise counsel around the issue.
The following articles will be of interest to those seeking a broader view of the issue.
"Public Service Advice less expert: Chaney", An article by Michelle Grattan, May 2013
"Frank, Fearless and Sacked" , Prof. Kenneth Wiltshire in The Australian October 2013
"Frank and Fearless in the Westminster tradition", An ABC Big Ideas program September 2015
"What is Frank and Fearless Advice and how to give it" A paper by Chris Eccles at the IPAA Vic. conference November 2015