Investment in Project Management in a Post-Covid World – by Rob Williams
[Rob Williams is the former CEO Thames-Coromandel District Council in New Zealand. By profession he holds qualifications in civil engineering and has a strong interest in project management and quality assurance.]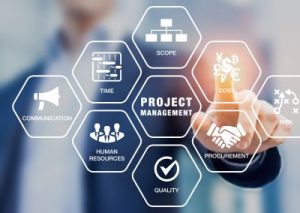 How well does local government secure value from professional project management of its works programs? Not very, is my impression.
There has rarely if ever been so much public money thrust towards the capital programs of federal, state and local government than in this post-Covid economy. Consequently, there has never been a more compelling reason for local government leaders to take a good look into the investment required to ensure that the enlarged spending promises, made on behalf of our communities and stakeholders, are not only kept but give full value. For too many years we have seen reports from Auditor-Generals in Australia and around the world bemoaning the 'over promise – under deliver' situation that exists in the public sector. This was reinforced again on Tuesday 24 May in the Brisbane Courier Mail article reporting the conclusions of Queensland Auditor-General Brendon Worrall's investigation into that State's spending.
The best project managers are worth their weight in gold. Recent salary expectations have demonstrated that for the right person, the investment in the right project manager will be rewarded. Having the right people in the right place doing the right thing in delivering our projects provides a solid foundation for great outcomes. However, with resource shortages and employers needing to think outside the square, reliance on having that foundation in place from within the organisation cannot be guaranteed.  A natural response is to rely on contractors doing the right thing. In some cases that reliance is not well founded to the detriment of the client. Both cost and quality are at stake and there are many pitfalls which can be avoided if Council management gives Project Management appropriate priority.
Working in a public / political sector has complications that the general population and private sector does not understand. The way projects are promoted, developed and delivered is very different and from a project management perspective there is never a 'one-size-fits-all' system that can be applied. All too often things can go wrong from the very start. Introducing effective project management late in the day can help matters going forward but won't recover the sunk cost of mistakes made at the beginning.
Some important matters to consider include:
Project Management Capacity
Works programs are generally resourced from year to year, with a bit extra provided for unforeseen eventualities. However, there is nothing more dangerous to council's project budget than 'the sudden change of scope' or the 'this project really needs to be expedited' dynamic. As senior managers we sometimes are too ready to please our elected bosses. We often agree to include additional work without challenging its impact on the overall program, and flagging that it might cause some other work to be delayed or cut from the program owing to limited resources. The good intent is then defeated. When scope changes or when new projects are promoted, make sure the overall program is reconsidered. Don't let over-optimism lead to failure to deliver and destroy your or your council reputation.
Project Visibility
Whether a project is being run in-house or via contractors, visibility is most important. How much do you know about the progress, the costs, the issues and the mistakes that have occurred? To be able to be on the front foot with all of these matters as they occur is without question the value that professional project management delivers. I have found in my career that there are three types of people –  those that talk about making things happen (they can be good at the innovation / development phase), those that make things happen (our project managers) and those that wonder 'what the heck happened'. As senior council staff we do not want to be in that third category for lack of honest and timely reporting with true, real and deep visibility.
Processes and Guidance
Never assume that all processes and guidance documents are up-to-date, easily accessible and regularly audited. This should not be taken for granted. Many councils also fall into the trap of implementing the latest PM tools without ensuring that staff are fully trained. It is also inevitable that there will be weaknesses somewhere within the team and so alongside the technical training there should also be some behavioral / team cohesion support implemented as part of each larger project. Often extra team development through independent facilitation helps ensure that the whole team is able to understand the risks and opportunities in a public realm context and keep focused on the principal objective. 
Public sector leaders are highly skilled at what they do and accompany this with a genuine desire to serve their community with the utmost level of professionalism. At a time when local government faces untold levels of scrutiny from the public they serve, we should ask ourselves how much can the sector deliver successfully and economically without investing in the most important means of doing so. Project management is a skill that is not naturally occurring in all managers. Local governments should be aware of any shortcomings in this regard in their organisations and invest either in the development of these skills in their own people or supplement the shortcoming through outsourcing.
Either way, the investment is a must if the council is to achieve true value from its capital program.
Need Project Management support? – Call in Reinforcements !