Is it just me or has something changed in the world of electronic service centres? As an avid complainer about the quality of service from call centres and web-based help pages (which I often referred to as "no help" pages, I have suddenly become aware of not having to complain for sometime.
My most recent experiences have been with:
an insurance company to lodge a claim for minor damage to a vehicle and seek advice about a repairer;
a technical support service for a computer software problem; and
a courier service to retrieve a package that was incorrectly addressed
and all were most helpful.
Dislikes about automated help services.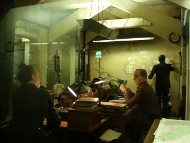 In the not too distant past I would have been tearing my hair over such typical encounters necessarily involving long periods on hold, synthetic voices trying to lead me through indecipherable numeric choices, incomprehensible foreign accents or advice that was more about denying my problem rather than helping to fix it. On websites associated with these types of services I could have expected to be cycling through repeated iterations into pages or related sites that were not helping me at all.
(The ultimate Help desk – Churchill's War Room in London contained a bank of colour coded telephones with direct lines to all Allied  Commanders' HQs)
In the above recent cases I was pleasantly surprised at both the speed and quality with which my enquiries were handled. In fact in the case of a courier, the operator went well out of his way to make numerous enquiries, even made contact with the very van carrying my parcel and to then call me back to advise that the deivery had been corrected and completed – almost as we spoke.
I know I am tempting fate to even express this kind of praise, but I can only hope that as a society growing in our systems savvy we have influenced our service organisations generally to become more adept at their practices so as to become much more customer responsive in their own technology.
What makes a good foundation for electronic customer service centre services.
Responsiveness – the main cause of the Public's distain of call centres in the past has been the lack of reasonable responsiveness to the individuals' particular needs. In large part, capacity to be responsive has being widely expanded through the options available now in dealing with matters via e-mail, websites, or automated Telco based services. Choices in mode of service delivery favour customers.
Companies are finding that making it easier for the customer both at the point of sale and in after sale service is reaping rewards in customer loyalty. The two main areas of effectiveness in electronic service centres are as follows.
Minimal delay in accessing service. The need to speak to a human being is still the greatest cause of long "on hold" experiences. However digital input from computers and mobile phones is now highly acceptable where once it was a frustration. It is a particularly efficient mechanism where options for choices are simple and transactions are largely binary requiring "yes or no" responses or
numerically based requiring in putting a simple code or PIN. For example I recently purchased an item online where I was guaranteed a delivery time to my door by a given date . Two days later I received a text message saying that my purchase was ready for delivery at an earlier date and giving me three options of days and times that might suit me. All I had to do was text reply using the numerals "1". "2" or "3" to indicate my choice and an instantaneous reply back to me confirmed the new arrangements.
Amazingly efficient!
Someone to unscramble my problem and offer a simple solution. There are times when simple electronic options will not suffice and issues are sufficiently more complex as to require some human dialogue and unstructured problem-solving. In these cases the absolute essentials on the service provider side will include
Effective language skills on the part of the operator to be able to understand the customer clearly and to explain lucidly what needs to be done.
The ability of the operator to empathise with the caller and carry out adroit questioning to identify the issues accurately and in a minimum of time, validating their understanding with the caller.
The operator having a sufficient range of solutions readily available or be able to obtain those solutions with minimum delay.
The operator being polite enough to satisfactorily explain clearly and sympathetically instances where the issue cannot be resolved at that point and to be able to offer alternative avenues of enquiry for the caller to seek an alternative solution is possible.
Even with the best will and most innovatively designed systems there will always be a percentage of customers in respect of whom none of the prepared procedures will prevent frustration and discontent with the response. However my recent observations indicate that our appreciation of opportunities to employ information technology is growing more sensitive to the needs of customers and to the skills required by the service providers and their operators.
Customer education improves the experience.
Customers for example are learning to be more prepared before engaging with electronic service centres to ensure that they are armed with accurate and clear information to convey about our problem and reference numbers or account codes where applicable. There is an obligation on the customer to clearly define their needs and an obligation on both parties to listen carefully and to record each other's details as well as the nature of the complaint and the advice given. I have even been known to rehearse my speil in my head before making a service call to ensure my message is as clear and concise as I can make it.
Perhaps as well as the service providers becoming more effective I am becoming a more effective customer.