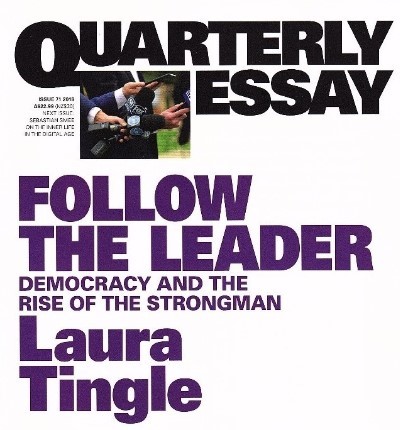 I just finished reading one of my Santa stocking fillers for 2018. Laura Tingle's Quarterly Essay – "Follow the Leader: Democracy and the rise of the strongman". Whilst not earth shattering it is a good read and with some interesting and thoughtful commentary on national leadership at home and abroad.
In particular, Laura presents a collage profiling current leadership incumbents and recent changes in national leadership in Australia and in those nations competing to be world economic, political and military powers. In doing so she evaluates some of the circumstances that both test and demonstrate leadership attributes. Making keen observations about political history and drawing lessons to help interpret leadership capabilities of current and perhaps future national leaders is a useful journalistic talent.
The Fragility of Political Leadership
In summary the point is advanced that traditional structural political mechanisms, especially in the Australian context, which once provided opportunity for a wide variety of input to national policy and strategy formulation have been disrupted by circumstances which now require the Party Leader to bear the sum total of initiative and subsequently blame for national outcomes. This includes the rise of the influence of Party Room factions over that of community leaders. According to Laura, this results in the high degree of destabilisation of leadership we have seen recently and poses some dilemmas for the future direction of domestic and international interplay of politics and diplomacy.
We all might see competing political personalities through the different prisms of our own biases and partialities. But, how often do we take the time to review their performance as leaders and to understand the pressures and political environments that influence their decision making and importantly their influence on strategic outcomes? That's what makes essays like this interesting and important. This is especially so if they then generate further discussion and debate about the issues they identify, as this one surely should.
Does Modesty Trump Drive in Leadership Effectiveness?
Coincidentally, this Weekend Australian (5/6th January 2019) also contains an article by Sathnam Sanghera "Think you'd make a great leader? You might be surprised". This piece presents an argument, also raised by Sam Walker in the Wall Street Journal recently, that "pushy, confident people aren't always good at leading". Examples are given of people who took on leadership roles only reluctantly and became highly successful leaders. In particular, Dwight D Eisenhower who became US President, promoted by others without much eagerness on his own part, but then posted one of the great all-time records of achievement in that office. Conversely, others who pushed their way to the top have sometimes failed badly at leading the people who put them there. Obviously, there are also examples of exception to those rules.
Both modest reluctance and driven desire to assume a leadership role, when matched by lack of preparedness and competence to do so, are recipes for disaster.
Nevertheless, I found both readings compatible in their underlying precept that the leadership of corporations and nations is now more than ever highly dependent on the attributes and capabilities of the individuals who find themselves at the pinnacle of their organisations. An interesting side commentary is that, of the current national leaders globally, those with the greatest assurance of stability in the continuance of their role are NOT those representing the Western Democracies.