Now is the time traditionally for making New Year Resolutions, although they are notorious for not being kept. Often that is because we tend to state them as wishes rather than action plans that we can implement and monitor.
What are some of the workable resolutions that Managers and Organisations might aspire to in 2013?
Organisational Aspirations for a new year.
Let's begin with some goals that could be useful for Management Teams to pursue for their organisations in 2013.
This year we will start positively by orienting our business activity to the most important aspects of our strategic plan – clarifying for everyone involved the key targets they need to strive for.

We will ensure that, not only are the targets clear but that there are well understood plans for getting from where we are to where we want to be.

We will ensure that those plans are adequately resourced so that we don't set the organisation up for failure by not having the capacity to deliver.

We will regularly engage with our customers, strategic partners and other stakeholders to ensure our delivery is hitting the target in terms of desired outcomes, cost effectiveness and quality.

We will regularly review our own performance at organisation and unit level to ensure we are doing the best we can and to constantly seek even better ways.

Our Management Team will focus on pursuing our targets on a highly collaborative basis so that the entire organisation looks and feels as though it is totally integrated in its approach.
These may sound very much like the resolutions you made last year. If they do, and you struggled to achieve them, there may be need to add another very important one.
We will commit to regular evaluation of our progress on these resolutions through our meeting together to discuss what we might need to do to sustain or improve that progress.
Only by having a strong corporate commitment and the resolve to actively embrace these values throughout the year will the organisation actually "walk the talk".
Personal Management aspirations for the year.
Those readers who subscribe to LinkedIn discussion forums might recently have seen a thread relating to managing the Boss. It occurred to me that there is another angle on the discussion – one which involves that context where one is required to manage both "Up" and "Down". Whilst the list of possible New Year's Resolutions for this experience could be endless, I'll choose just a few that might be helpful for the individual Manager.
In the same way that I want my Boss to mentor, coach and develop me in ways that allow me to aspire to their job, I will mentor, coach and develop my staff to prepare them to aspire to my role in future.
In the same way I don't like receiving nasty surprises when my direct reports have overlooked providing me with some critical information, I will ensure that my Boss always has timely and accurate market and organisational intelligence for good decision making.
Just as I feel  I have something to offer to my Boss in promoting ideas, critiquing their decision logic at times and speaking openly and honestly bout issues, so shall I encourage my subordinates to question (respectfully) my deliberations and decisions in appropriate circumstances and participate in healthy debate on matters related to our respective responsibilities.
Just as I expect my staff to be scrupulously loyal to me, to support my decisions once made and to implement them with commitment, so shall I respect my Boss by not hiding behind their authority when tough calls need to be made and by communicating their managerial philosophy honestly and supportively to others.
As with any NYR, the key to succeeding is strong personal determination to actively execute strategies to achieve what we say we will do.
The Goldilocks Principle of management relationships.
The Boss /subordinate relationship must be constantly under review by both parties to ensure that it is working for their mutual benefit.
To some extent it is best to operate in the Goldilocks environment, that is not too close, not too distant but just right.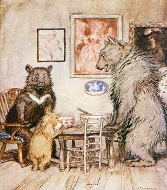 Too distant a relationship prevents honest and open conversations and the building of the intuitive understanding between colleagues that is so necessary for team-based success.
Too close a relationship creates expectations that may be difficult to fulfil and often prevent honest and open conversation because the friendship factor intercedes.
The just right relationship fosters respect from both sides and enables discussion in an atmosphere where the focus is on the business outcomes and on the respective roles of the parties in achieving those outcomes.
Image courtesy Wikimedia Commons and project Gutenberg http://www.gutenberg.org/etext/17034
Establishing and nurturing positive and constructive relationships both upline and downline ( as well as with peers) is perhaps the most important aspect of a Manager's role. Committing each year to work harder at that task is just about the best New Year's Resolution a Manager can make.
Use the Comments box below to share with other readers your New Year Resolutions for 2013.