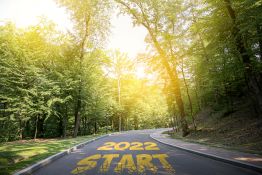 In music and verse the Christmas/New Year period is meant to be – "The most wonderful time of the year", with peace, joy, happiness, goodwill to all and gatherings of family and friends. Reflecting on Christmas 2020, it was supposed to be a turning point to put the challenges of COVID -19 behind us. We were optimistic that 2021 would be a better and easier year. However, dealing with the Delta strain and more recently the Omicron strain presented challenges for all levels of Government and many communities.
But infectious disease has not been the only disruptive factor for our industry. While dealing with border closures, supply chain interruptions and challenges of implementing working from home arrangements, councils have still had to meet ever increasing legislative and service demands. Complicating this environment is the growing division in the community over mandatory vaccination certification as an entry requirement to public venues and events.
The public debate over personal freedoms and the reasonableness of government regulation spilled over into the realm of conduct by pubic officials, with controversial findings from the Parliamentary Inquiry into the Crime and Corruption Commission and claims of similar over-reach by the Office of the Independent Assessor.
Many local government mayors, councillors and executive staff will be glad to see the end of 2021. But are there better prospects for 2022?
The challenges for 2022
Unfortunately, there will be no pause button on change in 2022. In March, Queensland Local Governments will be half-way through their four (4) year terms, with two Budgets remaining to address uncompleted election promises and get on top of their infrastructure issues before facing the polls again.
If the Queensland Audit Office report to Parliament and a recent Report is a guide, the challenges ahead next year for local government will include:
Information systems that are vulnerable and open to cyber-attacks- evidenced by one local government being the victim of a successful ransomware attack, resulting in disruptions to its financial and operational activities. Council's will be expected to improve and strengthen security of their systems.
A need to strengthen Councils' internal controls and governance processes.
Improving valuation and asset management practices.
For more than 50% of local governments, financial sustainability will continue to be a challenge. More than half of councils continue to spend more delivering services to their community than they receive from rates, fees and charges, and grants. This is particularly the case in rural, remote, and indigenous areas.
We are told that leaders cannot drive an organisation forward while looking in the rear vision mirror. Nevertheless, it is often useful for councils to draw breath at the half way mark of the term to check on how far they have come in their program of delivering their vision and how far they still have to go. Lessons learned about how well the challenges of 2021 were dealt with might be useful in planning for both the anticipated and the yet unknown challenges of the coming year.
A grab-bag of key strategies that are always good for meeting whatever comes over the horizon includes:
Aligning personal behaviour to the expectations of the Council's Code of Conduct.
Clear and constant communication with the community.
Focusing of financial sustainability and sound financial management.
Transparent and accountable decision making in the public interest.
Effective teamwork and collaboration within and between Council and its organisation.
All these strategies need, for their successful attainment, a commitment to "peace and good will to all". None can be achieved through promotion of self before others or worse still elevating self by seeking to pull others down.
Statistics from the 2016 and 2020 elections indicate a trend of around 50% turnover of mayors and councillors, revealing a tendency for communities to judge the competence of their local governments on the basis of both good governance as well as service delivery.
Yes, let us all move positively into the new year by individually and collectively striving to have our local governments reflect their  contribution to "Peace on Earth and goodwill to all."
Graham Webb