[Author of this article, Carolyn Johnson is a former Manager Libraries and Cultural Services at Logan City Council, Queensland, with an abiding interest in the benefits public art can bring to local communities. Carolyn is now a consultant with Reinforcements Management Consulting]
When Councils invest in quality Public Art, the benefits are inherent in developing that special "sense of place" that resonates with both residents and visitors and encourages community pride and belonging. But it is important to avoid subject matter, installation, location and maintenance issues that could create an unloved white elephant.
My favourite Public Art piece among the many works located in the City of Logan where I reside, is titled Democracy.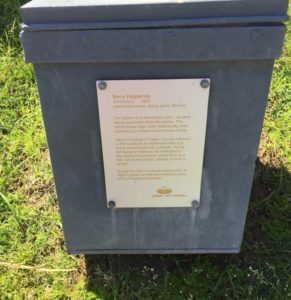 Democracy is made from recycled metal ballot boxes and reflects a bygone era in local government and other elections, when votes were cast in lockable steel boxes which were designed to withstand flood and fire and electoral skullduggery! Imagine the waste if hundreds of these boxes had been consigned to scrap metal, rather than recycled! In Logan's case "someone" had the insight to ask what could be done more creatively with the boxes and so began the story behind Democracy. [See the didactic at the foot of this article]
What makes public art projects work
Naturally, the words describing each piece of Public Art and the Artist's Brief are different, but the process and delivery story remains constant.  
Key elements of the process:
Project Manager appointment

Selection Committee appointment

The concept – Payment for concept?

Location – access, electricity, security etc.

Identified Risks (public safety, vandalism, weather elements etc.)

Invitations to specific artists versus general call for artists

The Artist(s)' Brief

Available funding opportunities

Shortlisting and selection of Artist(s)

Timeframe for creating the work and its fabrication, engineering and installation

Community engagement

Media

Public Launch preparation.
Ideally, the Project Manager will have a curatorial background, artistic flair and innovation, exceptional writing and communication skills, while at the same time controlling timeframes, risks, funding and expenditure budget and the installation. A tall order!
Choosing an Artist and the brief
Councils that support community and public art programs will generally have developed a Register of local artists. In the case of Democracy where Council owned the items from which the artwork would evolve, as well as the site location, the development of the the Brief was easier than if starting with a clean slate. The Brief clearly articulated all known aspects about council's desired outcome but did not diminish or impede the artistic licence which is so vital in achieving a quality work. In this case, a "Register" of local artists was used to invite a number of artists to provide concept designs. (The Brief specifies the fee payable for a concept design).
The shortlisting and selection of the Artist in accordance with previously agreed criteria, ensures transparency in the process. Debriefing those not chosen is crucial to maintaining good relationships with registered local artists. Respecting the skill of the chosen artist and solving the inevitable issues that arise during installation are paramount. Paying the Progress Payments on time is also helpful! Ensuring the artwork does not jeopardise public safety, is vandal proof and engineered to withstand climactic conditions are essentials that must be contained in the Brief.
Where an artwork may be contentious or may be seen to be "imposed" on the community, a program of engagement is essential throughout the entire process. In the case of Democracy, the artwork typified local government and was located on council property, obviating the need for extensive consultation. Media opportunities abound with any successful Public Art piece and Democracy is regularly used as a photographic backdrop.
In reflecting on all of the positives of Public Art, it is important to acknowledge that in terms of city image, there is nothing sadder than art installations that are in need of repair. An ongoing maintenance schedule should be negotiated with the artist at the time of engagement.
Note: In an unplanned but perfect finale, a previously un-named street adjacent to the artwork was named DEMOCRACY WAY.
[Need help with your public art projects – call in Reinforcements.]
DEMOCRACY
Local artist Barry Fitzpatrick used a ballot box in its original form as the backdrop for the Democracy story:
"The sphere is a democratic form – all parts being equidistant from the centre. The ballot boxes retain their individuality while combining to create a harmonious whole."
"Ideas of change in Logan City are reflected in the sculpture as rectilinear ballot box forms (are) transformed into a sphere"
"Young families and lifestyles are embodied in the playful interpretation of the form as a ball, set of blocks, balloon or even a puzzle."
"By day the form is colourful and playful. By night it glows red with the meditative aura of the indigenous campfire."