On 16th July it will be twelve months since perhaps the most influential person in management thought and philosophy over the past century succumbed at age 79 to what his family described as residual effects of an bicycle accident.
Stephen Covey's inspirational writings have been the mainstay of millions of management and leadership training sessions since his Seven Habits of Highly Effective People was first published in 1989.
Finding inspiration in pages less thumbed.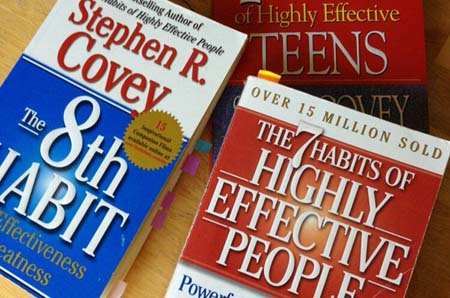 Many people pick up a new book, especially one about personal or professional improvement and flick straight to Chapter 1 to get started searching for the pearls of wisdom. I often find many of those gems are hidden away in the foreward to such writings.
Recently I picked up a relatively new reprint of the Seven Habits at an airport bookstore and began thumbing through it. As well as reaffirming its original seven habits, Covey included in the foreward some sage like advice about 21st-century challenges that create the environment in which the Seven Habits are most needed.
Covey nominates a number of challenges and suggests certain principles that should act as guides or be adopted as strategies in order to succeed in our modern business and organisational climates. Paraphrased they are as follows:
In dealing with OTHERS
Fear and Insecurity – recognise the reality that we are all interdependent and that interdependence should make us feel secure.
Blame and Victimism – avoid blaming others and circumstances for your current plight. Take responsibility for taking the initiative that will deliver you from those circumstances.
The Hunger to be Understood – reflecting the words of St Francis of Assisi, "Seek first to understand in order to be understood". Do this through deep and reflective listening.
Conflict and Differences – don't let your differences with people drive you to the lowest common denominator between you. Seek creative cooperation in developing solutions.
In considering SELF
Helplessness – don't resign to putting up with discouragement and depression or how unsatisfactory things are. Resolve to be the creative force in your own life.
Lack of Life balance – reject the culture that demands work should dominate all of your time. Develop a clear sense of life proportion and priorities. Focus on the most important.
Selfishness– avoid the "what's in it for me?" philosophy and master the art of "we", for through mutual respect comes mutual benefit.
Instant gratification – it is more sustainable to invest effort in our medium to long-term success by constant re-education and reinvention rather than stressing about getting instant results now.
Personal Growth
Above all, Covey emphasised that there is a threat of personal stagnation when we stop reaching out to learn and experience. His philosophical legacy encourages us all to seek continual development of the physical, intellectual, emotional and spiritual dimensions of our human experience and to see this as the primary habit of highly effective people.
Being an individual and being satisfied with what and who we are is very much the secret to personal happiness. Being able and willing to express to others our hopes, dreams, needs, aspirations, expectations and values can be the secret to a more meaningful career and personal life.
Just before his death in 2012 Covey identified an 8th Habit which might be paraphrased as " Find your voice and inspire others to
find their's."
Covey's voice and his inspiration to others has and will endure well beyond his physical passing.