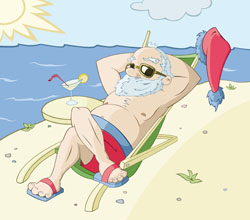 When I was a full-time corporate executive I certainly looked forward to the Christmas-New Year break to recharge the personal batteries. Time off with family and friends is an essential offset to working hard. But I also valued taking a small part of the quiet time to find space to let my brain do some data sorting to allow for clear thinking about the year to come. I found it much more useful to start setting goals for the next year in a mental state that wasn't cluttered with current problems and pressing immediate priorities.
I also valued a little solitude to contemplate the wider strategic issues likely to impact on our goal setting before sharing my thoughts with the rest of the team. Importantly picking the right time to do this is critical. I have often found the natural hiatus in the time just following New Year's Day useful when the pressure to join in festivities seems to abate somewhat. So here are some of my tips for creating strategic and organisational goals for further development with the leadership team.
Keep it Focused
Ask yourself "Where do I want my business to be at the end of next year?" That is, relative to where it is now. This question might be addressed in the context of a longer time horizon but critically the question is "What is it I need to do this year to ensure progress towards those more distant goals and objectives?" By taking this approach a leader can focus on visualising realistic achievable targets that they can plan for and direct. It also makes it easier to communicate to your team the intermediate objectives they need to share or collaborate on.
Keep it succinct
In the early stages of setting goals it is best to maintain a simple framework to clarify expectations both for self, team and organisation. Just choose one or two key deliverables that will clearly demonstrate that your personal and organisational goals have been fully achieved. Naturally there will be a number of subsidiary matters that need to have been dealt with to get you there. These can be recognised as part of the effort in securing the ultimate deliverable.
Keep it meaningful
Setting goals should not be devalued but using targets that are not meaningful to the overall strategic direction of the organisation. Nor should they be outcomes that you and your team can achieve without effort. Challenging but attainable targets help build capacity, maintain enthusiasm and develop commitment.
Keep it shared
Setting goals that are too personal to you often creates apathy in those you rely on for support. Goals that are most meaningful are those in which everyone has a stakeholding. People with a stakeholding in those goals will tend to support and contribute to their success.
Keep it front of mind
"Out of sight out of mind" means just that. If the goal isn't regularly revisited, monitored, measured and assessed it won't be progressed. Make sure it gets embedded in operational plans for regular evaluation.
Keep it valued and relevant
The importance of a particular goal should be regularly emphasised and reinforced with the team to validate why commitment to it is essential. If the organisation does not care about it they won't invest in it. If they don't see it as relevant they will ignore it.
Keep celebrating the Milestones
Effective goal-setting includes identifying milestones along the way to the final outcome which can be recognised and celebrated. The strategic plan for attaining the goal should include opportunities to acknowledge the effort and progress being made.
Above all, keep your goal setting practical and implementable. Keep in mind that the very next step from goal setting is to prepare the plan for its attainment.  Remember……
article by Gary Kellar