This week saw the annual Thanksgiving observations in the USA. It is a celebration that is taken both publicly and privately and is based on a traditional recognition of the earthly bounty provided by the harvest from a new land. For Americans it is a mixture of secular and religious celebration and as is usual for that nation it is filled with demonstrations on a grand scale.
The Macy's Thanksgiving Parade in New York is a huge public spectacle renowned for its giant balloons.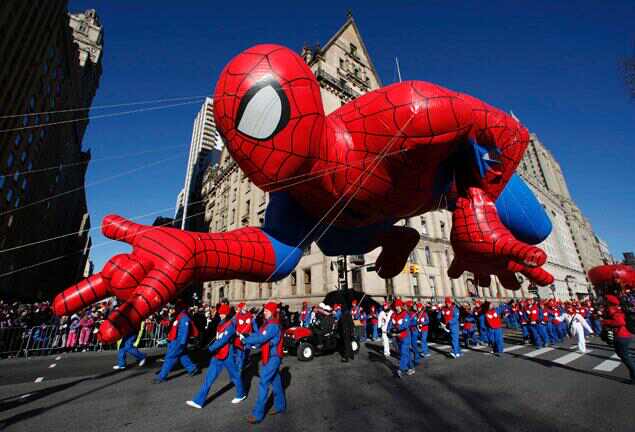 Thanksgiving also rates a public holiday when business and government close down for the day to enable employees to enjoy the celebration in their own way. Some employers arrange corporate celebrations on the same scale as we in Australia do at Christmas as a form of thanksgiving for the efforts staff have put in during the year.
(Image: Courtesy NYdailynews.com)
Pondering on that connection I was moved to pen a few thoughts on the question of how our organisations do show their thanks to employees, and whether it means anything.
Does formal recognition of performance increase job satisfaction?
Recent research by Roy Morgan Research on job satisfaction found that in a survey of the job satisfaction of Australian workers 32.5% said they were "very satisfied" and 42.9% reporting they were "satisfied" with their job. Only a small number of Australians in paid employment claimed they were "dissatisfied" at 6.6%, and 2.4% reported they were "very dissatisfied". Not a bad result, some might say.
The interesting aspect of the survey was that recognition made a difference to happiness, with 55.3% reporting they were satisfied with the recognition they get at work, and of this group 93.3% were satisfied with their job generally. However 18.4% of workers were dissatisfied with the recognition they receive on the job, and of these, 36.7% were dissatisfied with their jobs too.
Similar research in Ireland in 2012 found that more than half of companies with recognition programs also observed higher levels of employee engagement, retention, and productivity.
Unfortunately for some their endorsement of recognition is only lip service. In a recent Globoforce survey in the USA of 770 HR leaders who responded to the survey 94% said employee engagement is an important or very important workforce challenge they currently face. However only 42 % actively track employee engagement levels.
Does withholding recognition produced negative results?
Does lack of recognition hinder employee productivity? An article in the Economic Times in April 2012 tells us:
"In a poll concerning employee productivity, TJinsite, research and knowledge arm of TimeJobs.com, revealed that more than 35% of the employees consider lack of recognition of work as the biggest hindrance to their productivity. According to them, rewards and recognition for achievements at workplace act as morale booster, which in turn increase their productivity."
We also know from previous research that financial rewards although strong motivators do not exercise complete influence over job satisfaction.
"Financial motivators attract people to the front door of a company, but rewards and recognition keep them from going out of the back door." Sakaar Anand, Vice President-HR, CA Technologies
How do recognition schemes work?
"Employee of the Month" schemes are not new and indeed are widely used. Bonus payment schemes are not uncommon and regular Certificates of Appreciation presentations are made at morning teas and Friday drinks in all manner of organisations. Is that enough?
What about providing greater variety in our forms of recognitions like;
A formal letter of commendation that the employee can use in future applications for advancement;
Verbal recognition in public and some suitable opportunity;
An appropriate scale of gift (small tokens might include aTheatre pass, shopping voucher, corporate souvenir);
Training and development opportunities;Iinvitation to a broader executive lunch or dinner;
An invitation to the employee to present their work at some appropriate industry forum;
Presenting a suitably inscribed badge of honour at a suitable occasion;
Appropriately scaled perks such as better equipment, more workspace etc
There is general agreement amongst management writers that formal recognition of the efforts of workers by their Managers does improve both job satisfaction and work performance. One of the common observations however is that the recognition should be given with specific reference to the particular cause of the commendation, and also it should be done with immediacy rather than months after the event, so as to emphasise the relevance to behaviours that management wants to reinforce.
Above all in providing recognition:
Make it sincere;
Make it relevant;
Make it witnessed; and
Make it worthy.
"My cooking is so bad my kids thought Thanksgiving was to commemorate Pearl Harbor." – Phyllis Diller
 (Image: Courtesy Wiki images and Allan Warren)