Question: What do Dick Smith and St Jude have in common?
Answer: They both have a soft spot for desperate cases and lost causes.
Champion of Australian owned product
Dick Smith, apart from being the founder of a highly successful electronics business as well as an aeronautical adventurer, is a passionate patriot when it comes to Australian small business and in particular home grown food products. When many Australians merely sigh nostalgically when they hear of another iconic Aussie brand being taken over by international interests, Dick Smith issues a call to arms and actively seeks ways to fight back. No cause is too small for him to take under his wing.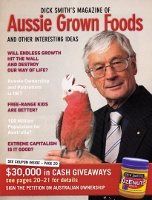 I rarely take an interest in the various advertising inserts that cascade out of the weekend papers but recently my attention was attracted to a twenty-eight page brochure illustrating a number of grocery items now sponsored as dinkum Aussie products by Dick Smith.
As I thumbed through the brochure I felt a little Aussie cheer squad energising in my brain at the very thought of these small business battlers doing their best against the no name brands on the shelves of giant supermarket chains. I then began to reflect more on the entrepreneurial qualities that seemed to epitomise anything that Dick Smith does.
Equally I mused over whether it is just something unique about Dick or whether any of us can develop or learn to approach life and business as he does – seizing new challenges and opportunities, turning what others see as lost causes into valiant commercial initiatives.
OzEmite, OzEnuts and the other Aussie Grown brands may not become market leaders …but then again they might! However I don't think that this is what motivates Dick Smith in these respects. It seems to be the challenge of creating commercial space for grassroots Aussie products in an otherwise oligopoly of marketshare dominated by giants. And that's an important message – the big boys don't have a monopoly on entrepreneurialism.
Lessons from one man's take on being an Entrepreneur
So what are the entrepreneurial traits in Dick Smith's approach that might be instructive to managers anywhere, regardless of their position in the organisational hierarchy or the economic sector in which they operate.
Here's what I think:
Vision – not just seeing an opportunity but identifying a creative aspect that expands the opportunity to something inspirational.
Passion – approaching the opportunity with infectious enthusiasm that can't help but recruit supporters and allies.
Ability to conceptualise – creating pathways to reality out of pure imagination.
Drive – seemingly boundless energy in the pursuit of the opportunity.
Innovation – not just thinking outside the square but searching in those corners of the square where many have looked before but not seen the hidden treasures that lie there.
Courage  – not just to go where no one has gone before but to go where people tell you it is too dangerous to go.
Optimism – a fundamental positivity of mind that whilst recognising the need for managing risks, does not let doubt blur the vision.
Resilience – the strength to rebound from setbacks and to persevere in the face of adversity.
Invoking even just a few of these attributes in any manager's context could make significant differences to organisational outcomes – not to mention the manager's career prospects. It might also incite opponents, as Dick has found in his case.
How might we challenge ourselves in that context?
How much more could I achieve if I could imbue these values into my team?

What's stopping me from exercising these initiatives right now in my current role?

Is there another role I might aspire to that would allow me to embrace these more readily?

How can I find opportunities to think Big and act Big?
And remember always that the term "big" is a relative descriptor. You can do big things even if you start small and with enough entrepreneurial attitude your "big" can be like Dr Who's Tardis – it may  look small from the outside but is immeasurable on the inside.
The story of Aussie Grown Foods is worth a read if only to gain a further insight into what drives one Aussie icon. Read more.