The passing away of Nelson Mandela on 6 December 2013 has given not just South Africa but the whole world pause to reflect on how one individual can achieve so much through the force of personal integrity and unassailable character.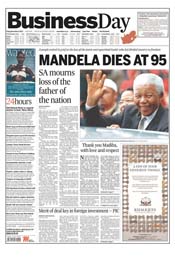 Although expected for some time, the impact of his death on the society he helped transform was reflected in the stark headlines of the Johannesburg papers.
For Nelson Mandela his passionate ambition was to save and rejuvenate his nation, but in a special way that rejected violence solutions, which would have been easy to invoke at the time, and chose the path of peace and sustainable politics.
Choosing the right path of leadership is as important, if not more so than choosing the path to victory. Mandela's key qualities are an inspiration to leaders of both nations and local communities and even in business pursuits.
Qualities of great leadership.
Patience perseverance and persistence are not qualities that are often promoted by business coaches who often prefer to focus their protégés on seizing opportunities with vigour and enterprise, aggression and decisive plays. For Mandela the greater prize needed a steady, committed and unwavering progress over the long term. He understood the words of the apostle Paul who wrote:
"We rejoice in our sufferings, knowing that suffering produces endurance, and endurance produces character, and character produces hope, and hope does not disappoint us..."
In his later writings Mandela said of his persecution and imprisonment that he never lost hope or faith in the ideal that freedom for his people would be attained from the oppressive Apartheid policy. It was just a matter of time and perseverance.
His leadership path however was not to rise up and take arms against the oppressors but to work on the hearts of men and women to bring about real change through increased understanding, tolerance and collaboration.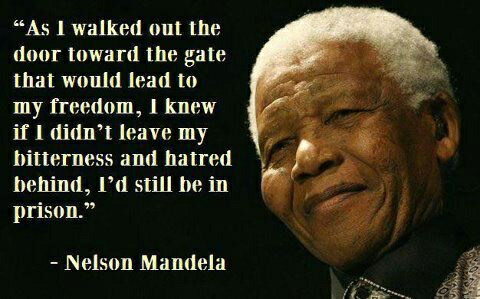 Forgive, Move on – but don't forget.
Humility, forgiveness and forbearance are qualities one might not expect of a person who spent 27 years in prison at the hands of his political enemies. To be able to forgive past injustices, insults and betrayals to forge a more constructive way forward hand-in-hand with former enemies is the mark of a truly transcendent individual. Moreover, Mandela promoted and transferred that quality to his political followers in order to secure a fundamental shift in individual and group attitudes, without which the progress made so swiftly would not have eventuated.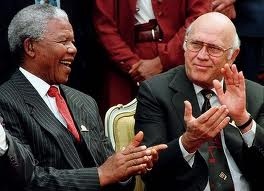 It must have been a truly prescient moment when Mandela and De Klerk found the common ground necessary to progress a new era for South African national unity. The two formerly implacable political foes reached resolution on what many thought to be a problem that could only result in widespread and continuing bloodshed. The photograph of both old protagonists celebrating the agreement should in itself be an inspiration to current conflicts zones like the Middle East.
(Image: Courtesy SMH.com.au)
Nevertheless, Mandela did not see moving on as ignoring what had happened. As he once said ""Reconciliation means working together to correct the legacy of past injustice."
Australia's small part in Mandela's achievement.
Mandela's determination, rock solid commitment to the eventual goal and promise of the future well-being of his people was built on much personal sacrifice and a willingness to put the interests of others ahead of self. What great leadership qualities these are for anyone in public life.
Enhancing these qualities is the generous offering of gratitude expressed to those who helped this great leader along the way. And there were many that helped Mandela achieved his dream.
Successive Australian Prime Ministers figured prominently amongst the supporters of his struggle. Prime Minister Bob Hawke actively fostered the initiative of what was effectively a global credit squeeze on the then South African Government which contributed strongly to that government's realisation that change had to happen. As a result Australia was one of the first allies that Mandela sought out to express his thanks once the victory had been won.         (Image: Courtesy The Australian)
Lessons for other leaders.
Are there lessons in this man's life for other leaders, even for managers within business and government organisations? Of course there are. People like Nelson Mandela are an eternal inspiration through not only what they have done but also what they have said and written. By these forms of outreach from beyond the veil the great man continues to be a mentor to us all and to show that anything is possible to someone prepared to endure.
"There is no passion to be found playing small – in settling for a life that is less than the one you are capable of living."
– Nelson Mandela (1918-2013)