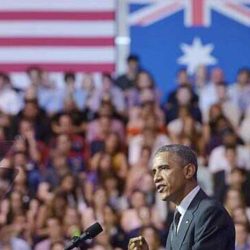 U.S. President Barack Obama caused something of a political stir recently over his speech at the University of Queensland during the G20 Summit in Brisbane, when he sought to raise the profile of global climate change as an issue. His reference to its likely effects on ecosystems such as the Great Barrier Reef created some controversy in the context of Australian domestic politics.
The Presidents' remarks were seen as a reflection on the Australian Government's response to the risk and strategies the Government might be adopting to mitigate damage to the reef over the next 25 to 50 years.                                                          (Image: Courtesy Courier-Mail.com.au)
However there is a more immediate impact caused by changes in climate conditions for local communities in Queensland and that is the occurrence of increasingly severe consequences from extreme seasonal weather events. At both ends of the spectrum from drought and bushfires to floods and cyclones, the events are becoming more intense and more damaging. Cyclones, floods and storms exact relatively immediate consequences whereas drought and soil degradation produce lingering but equally devastating results.
In all these cases communities think less about national policies and look more to local responses to both keep them safe and provide rescue and recovery programs to help them survive the event and regain their lifestyles and livelihoods.
Managing disasters locally
So it is that disaster management is gaining a growing significance for local governments and their SES volunteer organisations. There is a consistent framework of State legislation and practice to provide guidance and uniformity of approach but each local government area must prepare its own situation-specific Disaster Management Plan and be ready to respond appropriately and effectively when disaster strikes from whatever quarter. Although dominantly preoccupied with weather events these plans also encompass response scenarios for situations such as major road or rail accidents, chemical spills, lost and injured bushwalkers and certain police operations.
Since the election of the Newman government in Queensland the State has placed more emphasis on mitigating disaster events by employing or incorporating risk management strategies in Disaster Management Plans. This is partly due to the experience of many communities suffering inordinate increases in property insurance premiums by virtue of a growing history of disaster effects on their properties.                                                          
The aim is now to prevent rather than respond to and repair damage. Public assets such as roads have become particular targets for this approach.
How's your Disaster Management plan?
This all means that local Disaster Management Plans must now be more robust and more regularly reviewed and examined for gaps and weaknesses. Local communities are becoming more critical of their local authorities where they have proven to be poorly prepared to deal with the growing range and severity of emergency situations. In Queensland the natural disaster season is generally considered to span the months of November to April. Consequently, the early part of this period is the most appropriate time to take stock of local plans and capabilities to ensure readiness for whatever comes. In fact the law requires disaster management plans to be reviewed annually for effectiveness.
Recent legislation changes by the State Government, provide for the establishment of the Office of Inspector General of Emergency Management. The changes also provide for continual improvement of disaster management effectiveness, good practice guidance and for clear accountabilities by local governments and other stakeholders. The objective is to ensure regular review of plans, disaster management systems and procedures to ensure public confidence in Queensland's disaster management arrangements
Key considerations for reviewing local Disaster Management Plans are:
Does the plan comply in all respects with the relevant legislation – the local government may be found liable for serious damage to private property if legal responsibilities are overlooked or ignored.
Is there an effective communications plan to prepare the community, provided it with alerts and coordinate resources for response and recovery activities.
Are management and coordination procedures well documented, understood and regularly tested for effectiveness, particularly in relation to inter-agency coordination.
Has the plan being tested through drills and simulations to probe for weaknesses that might only appear under actual conditions.
Reinforcements can provide expert support in the preparation and review of local Disaster Management Plans through our  significant practical experience in preparing and administering these plans together with a strong appreciation of the relevant inter-agency dynamics at both local and state level.
Contact us to find out more about how we can help.