Executive performance systems continue to be an area of lost opportunity for most organisations. The failure of many boards and their executives to take it seriously and the reticence of both to engage in open, honest and constructive dialogue is the key reason.
There is a fairly simple test to assess whether an organisation is using its performance system effectively.
The recent increase in executive separations in Queensland local government is a clear example of where failure to embrace effective performance review and reporting processes leads to relationship breakdown and the "inability to work together" for mutually understood outcomes. The most common reasons given for CEO separation by their councils in recent times do not include reference to performance, but to a desire for the Council to seek a new direction with its organisation. This implies one of two fundamental realities:
Irreconcilable misalignment of understanding between the Council and its CEO as to appropriate direction; or

Failure in the capacity of the CEO to continue to lead the organisation in the direction required.
A third alternative is of course that the professed reason is largely a smokescreen for a situation where the Council does have issues with the CEO's performance but in the absence of documented evidence based on a rigourous performance management system is unable to substantiate a dismissal decision based on performance failings.
Getting to the truth of the grounds for these increasing separations is difficult given the lack of transparency encouraged by fear of litigation.
Why don't performance systems work?
The clear signs of an ineffective system are –
no record of agreed expectations concerning organisational leadership.

no documented evidence of either successful or unsuccessful achievement of expectations.

no opportunity to regularly review and clarify expectations.

no opportunity to provide constructive feedback and counselling or coaching.

no evidence of outstanding achievement that can justify rewarding excellence.

no evidence of performance failure that can form the basis of disciplinary action.

no opportunity to engage in dialogue concerning continuing professional development and relationships.
Key components of effective executive performance systems
Conversely an effective system should include –
clear documentation of performance expectations.

a structured framework that includes managerial, organisational and project outcomes with unambiguous targets and meaningful performance indicators.

identifiable links between the performance targets and the organisations corporate strategic outcomes.

provision for regular review and discussion for the purposes of open and honest feedback.

a focus on encouraging rather than criticising.
The value of independent facilitation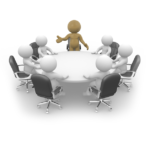 Intrinsic to the failure of effectiveness in performance measurement and review, even where documented systems exist, is the inability or unwillingness of either or both the executive or the reviewers to engage in open and honest discussion about performance issues.
In many cases this is merely lack of confidence in being able to participate in active dialogue on such matters for fear of generating conflict.
Engaging an independent facilitator to assist in the preparation for and execution of the dialogue can help both sides become more comfortable in talking about the key issues embodied in the performance plan. An experienced Facilitator can help both parties develop a positive approach to the review which recognises their common stakeholding in achieving organisational success.
Where aspects of the dialogue do become difficult the Facilitator is in a position to help maintain equitable and constructive discussion.
Reinforcements can provide experienced facilitation and advice on creating effective performance systems. Talk with us about your needs.