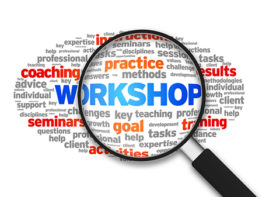 "Not another Workshop!!" I have heard staff cry out when the Manager tells them that it has been decided to consult them on future organisational change. "What good will a 'love in' do for us?" I have heard Board Members complain when asked to attend a strategic planning retreat. Why are workshops that work difficult to find?
So many times I have had people complain about being required to attend group based activities for business purposes. In some cases their complaint is based on previous bad experience but in many cases it is more about some apprehension that they will be asked to participate in what they describe as "touchy-feeling management games" or "childish activities involving building miniature towers to support boiled eggs using craft materials".
Diversions in a professional development or problem solving forum are helpful in managing the ebb and flow of energy in the group – but they do need to be appropriate . Having said that, there are as many complaints about forums where the time is spent being harangued by a speaker with a droning tone and little to break the monotony but an equally boring PowerPoint display.
So how do we make workshops work for all concerned?
Designing Workshops that Work
The main purpose of work related group gatherings can be many-fold.
To encourage collaborative problem solving or planning. (Often where silo cultures are apparent)
To seek new directions in which all participants have a say and can share their views and achieve common purpose.
To resolve existing conflicts or differences in approach to work issues.
To utilise a variety of talents and skills to develop solutions to challenging issues.
To listen to different groups within the organisation and to take on board their ideas, opinions or help them tune in to the common direction.
To impart corporate knowledge in a sharing environment so that everyone hears the same message and that understanding is validated by discussion and questioning.
The following guidelines might lay the foundation for a workshop that works.
Pick the right participants.
Choose a facilitator who

keeps the program on track,
keeps an eye on the time,
encourages participation by ALL,
intervenes to break impasses, and
provides light relief when tension is building.

Ensure the Program is relevant, purposeful, has clear objectives and aspires to reach a real conclusion (work with the Facilitator on designing these aspects into the program).
Management must commit to the participants BEFORE the workshop is held that the outcomes developed by the participants will be pursued.
Choose a good venue and provide good catering.
Engaging the participants
It is essential to focus on the engagement of the workshop participants – BEFORE, DURING and AFTER the workshop.
Require some preparatory reading or idea generation to have participants ready to work when they arrive.
Provide a good measure of active involvement that has every participant contributing
Make sure the program contains variety but ensure diversionary activities are suitable to the group involved .
Make sure there is always a learning experience in the program.
Record deliberations and outcomes so that the results are not lost.
Appoint accountable people to follow up on the outcomes.
Take feedback from participants on how they felt about the workshop and all its aspects.
Referring to my opening words, I have to say that on most occasions I have found the complainers never fail to drop their protests once the fun begins and the opponents of the "love in" never to refrain from roundly expressing their views once the debate commences.
If you need expert workshop design or facilitation – call in Reinforcements.